One day, I was going through some Facebook accounts and then suddenly I saw this photo below. I was thinking and wondering to myself. What is going on in the minds of young people today? Are they even assertive enough to know what messages are they sending to other persons online? What is going on in social media today?
Her caption included a lot of indecent language and surprisingly at least 120 people liked that post. When I saw that caption in the picture above on Facebook, I was amazed, shocked and surprisingly it caught my attention in a negative way. I think it's time to say I have had enough of the inappropriate and unnecessary caption, especially on Facebook. If a prospective recruiter saw the inappropriate caption, they could change their minds about their decision.
It could have been your future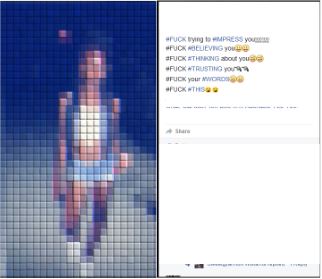 manager or supervisor who wants to hire you. So this article will give some advice on how to write an appropriate caption on your social media pics. But before I get to that point, let's talk about how inappropriate caption on social media can negatively impact you as a brand.
NEGATIVE IMPACT OF INAPPROPRIATE CAPTION
In 2009, amednews.com informed that a study was done in the Journal of the American Medical Association. It was found 60% of the U.S. medical schools reported that there were medical students posting inappropriate content online. This has led to the attention of the National Association of Physician Recruiters to have a special session to discuss the issue. So sharing inappropriate caption on social media can affect your chances of being a future employee.
You are applying for a job and an employer recognises that you posted an unprofessional content. HR can use those pictures to determine your employability status. At this day and age, there is a technology where the information technology specialist can use your email address from your resume. Then submits the images to the human resource manager using a link. The specialist searches for all the pictures that have been posted on Social Media.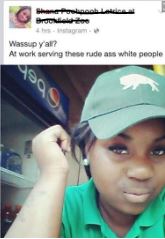 It has now become a trend to use Social Media to recruit potential candidates for a position in an organisation. No Human Resource manager or manager wants an employee to behave in an appropriate manner as this will place the company's public image in a negative way. The candidate may be successful at the interview but his/her chances of landing the job are slim to none. With all that said, you as an individual should make a change in how you portray yourself online.
Being a brand means that you are representing yourself, your family and other persons who molded your character from the day you were born. The employer will reflect that the organisation's reputation is on the line. The character that is displayed on social media will be portrayed in the workplace.
ADVICE FOR HAVING APPROPRIATE CAPTION
1. Michael Kwolek, Director of Research at the social media consulting firm Room 214, mentioned that captions that work on Instagram increase engagement and this will lead to more likes and therefore this will make persons like you more on the online platform. Mention who the caption is for (audience). Reel in the reader and give more reasons for persons to follow you. Include appropriate content that will explain something that will get people's attention. The more you know about your audience, the more attention you will get.
2. If there is an interesting story behind the photo explain it. The text will give more value to the photo posted. And in addition, to that eliminate unnecessary words and be brief. The caption should be short and straight to the point. This should go along with an appropriate photo.
3. Michael Aynsley's article on "How to Write Great Instagram captions that drive engagement" mentions that are questions in determining the target audience. I have used these questions to initiate factors in defining the target audience and they are an age group, location, occupation, and employment status. Once you know these factors, then you can determine if the audience understand the situation, if emoji are appropriate to use and is there a need to add more context to the photo. Once you have identified the elements in outlining who the target audience is then you can finally identify what is your brand on social media.
4. You can answer these questions by making a list and use it to market yourself and show your personality whether you are a funny, a serious person or in between. Ask yourself who are you as a person, what qualities and values do I want to portray? Identify yourself on social media.
5. Make sure that you go through several drafts to ensure that the content is supported by the message that you are conveying. If you want people to read your caption, allow persons to understand what you are saying. Ensure that you check your spelling and grammar. If you don't do that then people will avoid your post and move on.
6. You can use hashtags when there is relevancy on your post and target audience. Hashtags are used to identify the message on a specific topic. Kwolek mentioned that we must not use hashtags that are only relevant to ourselves or the events that are happening around us. Use wisely appropriate hashtags.
Now that you understand the knowledge and meaning of appropriate caption on social media then everyone can be more open-minded and become more conscientious and attentive of the impact of social media on your brand.