Sweden has plenty of opportunities to offer when it comes to things to do, but of course, you have to be a cold fan; and me as a South American, I must admit that I'm not the greatest fan of winter, cold and darkness. And that's exactly what characterizes Swedish winters, so being at home with a hot chocolate was the best!
This big country, with 10 million people has a very interesting culture that helped me to overcome the dark winter and the big language shock:
First of all, I felt very lucky to know that a big percentage of the people speaks very good English, and although I spent more than usual in the supermarket trying to translate everything we needed to follow a recipe, it was nice to know that I was able to ask at the counter if I needed some help.
Also, skiing, snowboarding and everything that has to do with snow, it's in their hearts; and for some reason, they don't feel the cold (how's that even possible!?). That's probably why they say there's no cold weather, just wrong clothes, well… I probably didn't have the right clothes since when I left Uruguay I wasn't really planning to go to Sweden, but What!? That was so da*n cold!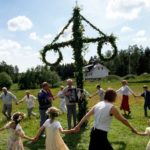 They have spring and summer celebrations; in the spring celebration or Valborg, we greeted spring with a bonfire and barbecue (Yaaay!) and Midsummerwhere we celebrated the beginning of the summer with typical drinks, games and a traditional dancing where you dance around a pole with a peculiar (suspicious?) shape.
And my favorite: candy and treats!
Because OMG, how great is that!? And the best part is that they have specific days for it like of course Easter to have some chocolate but also have Fat Tuesday where they have Semla, and Waffle day, so gaining some weight here is not that hard after all!
They have something similar to what we have in my country, a coffee pause between lunch and dinner, called Fika; and yes, it is my favorite part of the day. They have liters of coffee, semla, kanelbullar or cinnamon buns and some other delicious treats.
Fika has no translation. It means to take a break with colleagues or friends, over coffee and (usually) something sweet to eat. But it means so much more than that. It is a ritual, it is a tradition; it is the very fabric of Swedishness. It is something, if invited, you should never say no to.
Swedes drink an average of nine kilos of coffee per person, per year, and an overwhelming majority agreed that a fika break or two at work greatly improved their productivity.
I don't blame them, it's so delicious!